The solar industry in Washington state, including thousands of jobs, is in jeopardy. Luckily, there is a potential solution on the horizon.
Just over ten years ago, a bill was passed in the Washington State Legislature which introduced incentives for residents to install renewable energy systems, including photo-voltaic solar arrays, at their homes. At that time, there was hardly any solar PV industry at all in Washington, and demand was very small.
However, over time the incentives provided by this bill, and subsequent changes, demand for solar PV increased as the cost of solar modules and inverters decreased, and the time for a solar system to pay for itself was dramatically reduced. In addition, since the incentive program gave substantially more incentives for systems using modules that were manufactured in the state, new solar module manufacturers started up in Washington to produce the modules for Washington homeowners.
The state's solar installers, with the help of these incentives and a federal tax credit, have caused the industry in the state to flourish. The number of solar PV systems installed in the state went from nearly zero in 2005 to over 700 in 2010.  As of the start of 2016, there are now approximately 10,000 systems totaling over 60 MW of generating capacity in Washington.
This growth has created thousands of jobs in Washington State at module manufacturers like Itek Energy in Bellingham, and at solar installers throughout the state. In 2014, Solar Washington, a non-profit industry organization, surveyed installers and manufacturers in the state. They found that every dollar paid in incentives results in at least $2.46 injected into the state's economy. As of November 2014, there were 128 solar companies representing over 2,400 jobs in the state, and that count has likely increased since then.
Unfortunately, this huge amount of growth was unforeseen when the original legislation was written, and it's now in danger of causing many of these thousands of jobs to be lost.
The law as it stands now (in RCW 82.16.120) is written to limit the amount of incentive that a utility can provide to its customers as 0.5% of the utility's annual revenue from power sales. Since the utility gets a tax credit which they use to pay the incentives to customers, the state must limit the amount of the credit the utility can get, thus the amount that can be paid to customers who are generating their own power. If a utility would have to exceed their limit, they must instead reduce the payment amounts to the customers.
Early on, the incentives being paid out were far less than the limit. Likely, it was not really thought out what would happen if the industry was flourishing and the limit was hit. Unfortunately, Puget Sound Energy, Seattle City Light, two of the largest electric utilities in the state, have made announcements that they will be reaching their limits this fiscal year (which ends June 30, 2016), and others are not far behind. So it's now time to look at what might happen if the law remains as it is, and to look for solutions for this problem.
Puget Sound Energy has released substantial amounts of data about the status of their incentive program, so it's easy to use them as an example when extrapolating the future in the following graphs and comments. The other utilities are likely looking at very similar situations.
PSE's revenue has been decreasing over time as homeowners and businesses make energy-efficient upgrades to their homes. In addition, winter weather has not been particularly rough lately, meaning less energy is used for heating in the winter, which also impacts their revenue. Since the limit for their incentives is based on their revenue, this means that their incentive limit has also been decreasing.
Furthermore, as previously noted, the number of solar PV systems in Washington, especially within PSE's territory, has been increasing exponentially, so the amount of incentives due to customers has been increasing exponentially.
In 2009, PSE passed $170,000 to customers who were generating their own electricity. Their limit was somewhere around $14 million, so this wouldn't have seemed a problem. By 2014, PSE paid out $3.1 million in incentive payments, with a limit around $9.6 million. Even in this case, it's a fraction of the limit and would not seem like an issue. However, the incentive payout was consistently increasing by about 80% per year, while their revenue was decreasing by about 8% per year.
Making Predictions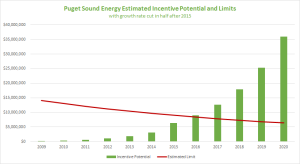 Now we have data through 2015 and can make projections about future revenue and incentive payments. If we assume that, because the payouts will be decreased, the rate of growth will be half what it has been (that is, half as many solar PV systems will be installed per year, and half as many people will be employed doing so), by 2020, the end of the incentive program, PSE will have a potential incentive payout of $36 million, but their limit will be around $6 million, resulting in their payments to customers being reduced to a mere 16.7% of the potential.
For anyone who had a solar system installed prior to 2016, this would be a huge shock, as many of these people expected to get their incentive payments in order for their investments to pay off. Under this scenario, expected payoffs go from 4-5 years to 20-25 years, which is certainly not news to be taken lightly.
The result of this would be that hundreds or thousands of jobs would be lost, as the demand for new systems would decrease. A system that pays for itself in 4-5 years is much more appealing to potential customers than 20-25 years. First, installers would have to lay off their crews and sales teams throughout the state as the number of customers decreases. Next, itek Energy would lay off potentially dozens of people in Bellingham alone as their sales plummet. This is not a situation that anyone would find appealing.
The current law also includes a sudden cutoff of all incentives on July 1, 2020. This has the potential to cause similar issues as a result of the sudden change in demand that could happen.
The Solution
It's time to find a solution for this. Luckily, Solar Installers of Washington (SIW), a lobby group consisting of 22 local solar installation companies, has been working together with several legislators to create a bill that can help to address this situation.
The bill, HB 2346, takes steps toward fixing several issues with the current incentive program. It addresses the sudden cutoff of incentives in 2020 by introducing a gradual reduction of incentives. The bill decreases the incentive rates overall in order to decrease the growth of required incentive payouts. In order to deal with the fact that, as of now, someone who installs in 2019 will only get one year of incentives, it introduces a 10-year incentive period for new installs. It also increases the incentive limit to allow for growth to continue for some time.
Incentive Rates
The new bill will ideally be passed in the current legislative session. If it is passed in its current form, it creates a new incentive structure starting on July 1, 2016. Under the new structure, a person installing a renewable energy system will get incentives for ten years after their system comes online. The rate of incentives depends on the size of the system, the fiscal year it is installed, and whether the system has made-in-Washington components. The following table displays these rates.
Fiscal Year
of Installation
Base Rate
≤12kW
Base Rate
>12kW
Base Rate
Community Solar
Made-in-WA
Bonus
2017
$0.22
$0.18
$0.32
$0.10
2018
$0.20
$0.16
$0.30
$0.08
2019
$0.18
$0.14
$0.28
$0.06
2020
$0.16
$0.12
$0.26
$0.04
Note that the fiscal year runs from July through June. For example, fiscal year 2017 ends on June 30th, 2017.
The rates are paid per kWh generated on an annual basis. For comparison, the current rates are $0.15 with either a $0.21 or $0.39 bonus for made-in-Washington, meaning someone can get up to $0.54 per kWh they generate.
The proposed legislation limits the production payments to $25,000 for systems over 12 kW, so super-large systems cannot monopolize the incentives. The current incentives are limited to $5,000 no matter the system size. This will make it more interesting for larger made-in-Washington systems to be installed, which will help the industry more without substantially hurting the total funds available for incentives.
Since the incentive rate is based on the year installed and it always runs for ten years after that, many systems will actually be getting a profit from the incentives. For example, a 6 kW made-in-WA system installed on January 1, 2017, might cost $23,700 to install. It might bring in $2,112 in incentives per year, plus get a federal tax credit of $7,116 (30%), and reduce the owner's power bill by $720 per year. The cashflow would then look something like this:
Calendar
Year
Incentives &
Tax Credits
Bill Savings
Annual
Cashflow
Total
Cashflow
2017
$1,056
$720
$1,776
($21,924)
2018
$9,228
$720
$9,948
($11,976)
2019
$2,112
$720
$2,832
($9,144)
2020
$2,112
$720
$2,832
($6,312)
2021
$2,112
$720
$2,832
($3,480)
2022
$2,112
$720
$2,832
($648)
2023
$2,112
$720
$2,832
$2,184
2024
$2,112
$720
$2,832
$5,016
2025
$2,112
$720
$2,832
$7,848
2026
$2,112
$720
$2,832
$10,680
2027
$1,056
$720
$1,776
$12,456
The total state incentive provided for this typical system is $21,120, which covers 89% of the original install cost. In combination with bill savings and the federal tax credit, the system pays for itself in just over six years, and after ten years the system has a total net profit of $12,456. This kind of investment will keep people interested in installing solar on their homes. Decreasing the incentive rates from their current values will have some effect on the industry, but they will still be at values which allow systems to pay for themselves in reasonable times, so the impact will be smaller than it would be if nothing was done.
Payout Limits
Decreasing the incentives paid will also mean decreasing the impact on the incentive limits that the utilities can pay out. In addition, the bill proposes increasing the limit for utilities to 2% of revenue from power sales. In combination with the lower incentives, this will work very well, as many times more solar systems can be installed without hitting the limit. Plus, the new bill doesn't set the limit based on a utility's current year revenue; it fixes it to their fiscal year 2014 revenue. This means the incentive limit will not decrease over time if the utility's revenue decreases.
Based on basic predictions, it appears that under this scenario it is unlikely that PSE and other utilities would reach their incentive limits by 2020. After 2020, their incentives paid out will decrease substantially as everyone under the current program will stop receiving payments. They will then remain the same through 2026, then gradually decrease to zero by 2030.
Anyone who installed a system prior to July 1, 2016, would remain under the existing program. Their incentives, as mentioned, would end on June 30, 2020. However the payout limit increase will help to ensure that they will get the incentives that they were expecting when they installed their systems.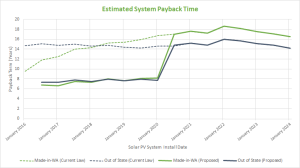 After 2020, new systems being installed will not get any state incentives. However, by that time, it is expected that the cost of solar installs will have come down substantially so that installations can continue somewhat without incentives. There will be a jump, as you can see in the graph to the right, because the incentives suddenly drop from $0.20/kWh for most down to $0.00, but this is a lot less than the impact if nothing is done at all, in which case payback times would already be at that point, causing an immediate and substantial impact.
Conclusion
In my opinion, HB 2346 is a great way to ensure that the solar industry in Washington continue to thrive for many years; to prevent massive job losses in the state and help promote renewable energy produced right in our own back yards. At the same time, it could inject millions of dollars into the Washington economy.
How can you help?
If you agree, you might wonder what you can do to help get this passed. The easiest thing you can do is write an e-mail to your legislators. Using that link you can find and e-mail all three of your legislatures simultaneously, specifically about this bill. If you wish to call or visit your legislators instead, you can find their contact information using the District Finder tool.
Finally, share this information with your friends and family! Even if they don't care much about solar panels, I'm certain they will care about the potential for over 2,000 jobs to be lost in Washington.