I'd been starting to think that we'd been making this too easy on ourselves. Our travel distances every day were very small and we always left with 100% charge. It made us pretty confident in our ability to get from city to city along the coast. Probably a little too confident.
First of all, our night in the yurt went quite well. It was warm, dry, and comfortable, despite the drizzle outside. We got a fairly good nights' sleep. The campground itself (Devils Lake State Park) was quite good — fantastic bathrooms and showers, everything was clean, etc. It was a lot better than Honeyman State Park which we stayed in for two nights a couple eons ago.
After checking out a nearby beach (by the shortest river in the world, "D" River), we grabbed an 80% charge from the quick charger and headed north. We were confident in our range and decided to take the scenic route. I programmed the car's navigation system to take us around that way, and to take us by the things we wanted to see in Tillamook once we got there.
One of our friends told us before we left home that if we see something interesting, go check it out. We used this advice a couple of times on this part of our journey.
First, as we were driving along the coastal route, we noticed a huge rock standing by itself out in the ocean by Pacific City. We went off our course a bit to check it out and take some photos from the beach. Then we continued on.
By the time we reached Cape Lookout, I happened to notice something of concern: The range available according to both the LEAF Battery App (at 4.2 mi/kWh) and the Guess-O-Meter in the dash were less than the distance to our destination indicated on the navigation system (28 miles). Usually the car warns when this happens, but it didn't today, for whatever reason.
This caused a brief moment of panic. We pulled over and Trish went to take pictures while I did some computation to see what our options might be. I cleared everything from the navigation system and told it to map us to the quick charger in Tillamook. It was only 12 miles away. This was well within our range, and I was much calmer. It turns out the navigation system was giving the total distance between our waypoints (of course), which were back and forth all around Tillamook, and thus a much farther distance. Going to the charger first solved this. We did make it to the charger with 3 bars left.
Next we drove up to check out the Tillamook Air Museum. It didn't look particularly exciting, other than being in a giant blimp hangar, so we didn't go inside. Then we went to the Tillamook Cheese Factory. It was obviously a huge tourist activity, and being tourists, it seemed like something we should do. It turned out to be pretty boring. But we got some interesting cheese to eat and good ice cream cones. Then we headed north toward camp.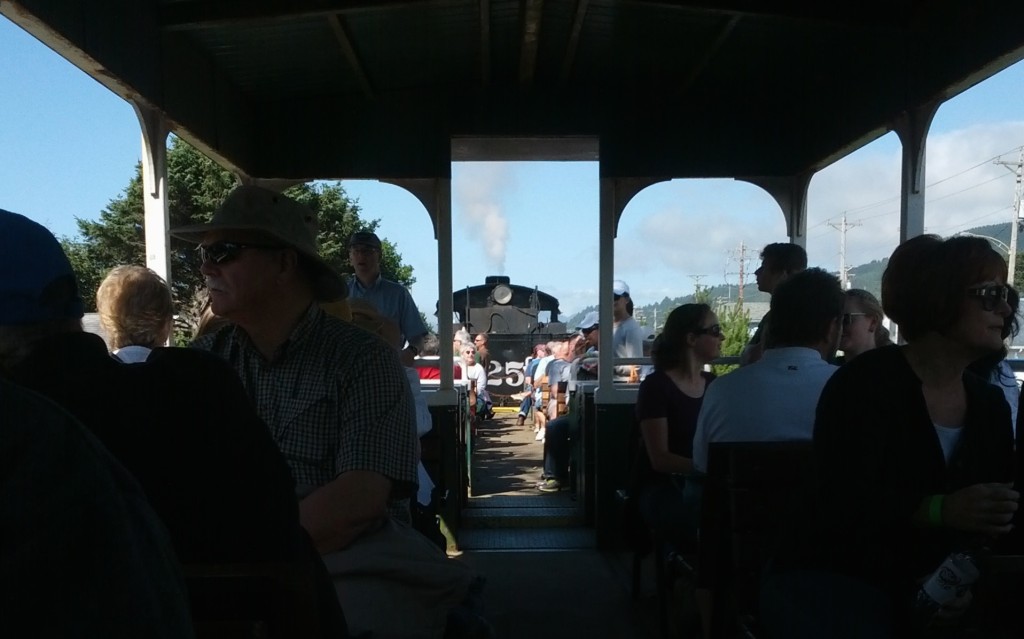 But on our way, we had another distraction. Travelling through the town of Rockaway Beach, I suddenly noticed a steam-powered train sitting on the tracks next to the road, and it was actually running! We pulled over quick and investigated. The train had tourists on it, and it was leaving in 5 minutes to go to the town of Garibaldi, after which it would return to Rockaway Beach. I've always been fascinated by trains, and have never ridden on any train, let alone a steam train! We hopped on and took the ride.
The train didn't move fast, but it was pretty exciting. It's too bad it's coal-powered, but I think it's okay for an occasional vintage machine to run on fossil fuels for entertainment purposes. It took an hour and a half for us to take the round trip. There were some nice views from the train; but just getting to ride behind a steam locomotive is fun enough. This was a lot better than the cheese factory, for sure.
Finally we made it to camp. The weather has dried up, which is a relief. The grounds are full here, but it seems to be pretty quiet. We can hear the ocean roaring to the west, but we haven't had a chance to check it out yet — now that it's dark, we'll wait until morning.
Tomorrow's plan is very easy. We're going to drive about 16 miles to Cannon Beach. We'll be staying in an inn there, and check out the touristy things around town.