Our main goal today was to head out to Multnomah Falls with our friends. We weren't actually able to get in to see the falls, as it was extremely busy, but it was a fun drive anyway. We took the old road route (not the freeway) because it was more scenic, although somewhat more hilly, so we used a bit more power than planned.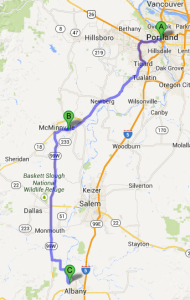 On our way back we took a detour to get a charge at another Walgreens while we wandered around and found some late lunch. We hit the Low Battery Warning a few miles before the Walgreens. In just over two hours at Walgreens we picked up 12 kWh of charge. This was plenty to get us back to the condo and so with a level 1 charge overnight, we'll have a 100% charge for tomorrow's travels.
Tomorrow we will go with our friends to the Evergreen Aviation and Space Museum in McMinville, then continue southward. There are plenty of free chargers so we are not expecting any difficulties.
We will arrive at Albany later in the day and stay with a friend of Trish's there overnight. That will be our last night in a building for a while.